Help Topics
---
Business cards began as visiting or calling cards in the 17th century, used to announce their owner. By the 18th century, the most popular printing method used to produce business cards was engraving, in which a copper plate with the design hand-etched in reverse was used to both apply ink and actually raise the printed area.
While engraved printing still exists, it has mostly been replaced by thermography, which is a process that uses a powder sprayed onto the printed sheet while the ink is still wet, where it adheres and is raised by the application of heat. This is the process we use. (Flat printing is also available.)
We also offer full-color digital printing on some items. This process uses four colors of extremely fine particles of toner that are fused onto the paper with heat. An advantage of this style of printing is that the set-up is simpler, allowing smaller quantities to be cost-effective. Full-color printing is not available raised.
Here are a few things to keep in mind about raised ink. The photos below are at approximately 500% magnification.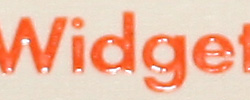 Raised ink is glossy.
In this close-up of a 10-point font, you can see the glossy quality of thermography.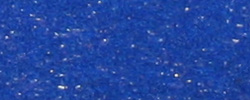 Raised ink solids have a unique texture.
Areas of large coverage, like the enlarged example to the right, have a distinct "orange peel" effect. This is by design and the nature of raised ink. Please select flat ink if you wish to avoid this texture.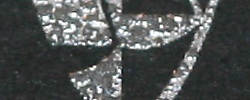 Metallic inks have flecks of metal and look different from a foil.
In this enlarged example of silver ink on Environment Cosmos Black, you can see the "glitter" effect of metallic ink.
Start by picking a template similar to what you want to achieve. At the top of the editor there are pop-up menus from which you can pick paper and inks. Click "update" to view your chosen paper and ink. You can also view all our paper, ink, and font samples.
For full-color items, the ink selector offers a color picker under the "Other" label. Selecting "Other" makes the full-color picker visible and lets you select any RGB color. Please note that very bright RGB colors appear less intense in print than on screen.
Below the paper and ink pop-up menus is a preview graphic of your design. After entering your information in the fields beneath the layout, you can update the preview by clicking the "update" button near the bottom of the window.
You can also click the layout to enter our visual editor. There you can click and drag individual blocks. You can delete a block by dragging it off the layout.
Setting up an account is optional and not required to place an order. However, an account makes it easy to save layouts and place reorders. To create an account, click the "Your Account" link in the upper right corner. Enter your e-mail address and click "E-mail Me My Password." A password will be sent to you immediately.
If you forget your password, just enter your e-mail address and click "E-mail Me My Password" and your password will be sent to you immediately.
To save a layout to your account, click "Save this layout for later" at the bottom of the editor page.
If your design extends all the way to the edge of your card, this is called a bleed. For production reasons, it must continue at least 1/16" beyond the edge to allow for cutting variation. In the example to the right, the dotted line is the cut edge and the area outside the dotted line is the bleed.
A typical business card paper (or "stock") is 80# cover; we carry several 65# covers, which are noticeably lighter. Since we carry a wide variety of papers, please check our samples page to be sure your paper selection will meet your expectations.
Papers are available with the following finishes:
Linen is a textured finish of vertical and horizontal lines.
Laid is a textured finish of wider, horizontal lines.
Parchtint is a parchment-like finish with lighter and darker areas.
Treasure Cote is a coated, glossy finish.
Deluxe Parchment is a thin, translucent paper.

C1S papers are coated on one side. The front is glossy and the back is uncoated.
Our fluorescent papers are very bright; these colors are not representable on-screen and are similar to DayGlo® colors.
Units on DYOC are expressed in mm, points, and inches. There are 25.4 mm or 72 points in an inch.
Please note that the layout you create online is the actual file that we use for producing your order. In terms of layout, the final product (or stamp imprint) will look exactly like the preview (though text will be at a much higher resolution). We do not recreate your layout or otherwise alter it, so please verify that your layout is exactly how you want it. Please ensure that any placed graphics are of sufficient resolution (we recommend at least 300 DPI). Paper color and texture and ink color may vary somewhat.
Printing the editor screen will not produce an accurate representation of your card in size or quality.
To the right of each text block are a number of controls that let you change that block's font, size, and position.
Leading, also known as line spacing, controls the amount of space between the lines of a text block. It can be set in three ways. An absolute value is entered as a number, and isn't affected by the size of the type. If it's smaller than the text block's font size, it's possible for the lines to touch or overlap. Relative leading is available in two forms: either enter a plus or minus value, in points (for example, +2 leading on a block of 10-point text is the same as 12 point leading), or a percentage (120% leading on 10-point text is the same as 12 points of leading).
Each block can print in any of the colors you specify at the top of the window. You can also select "reverse" to make the block "knock out" the ink below it.
A universal margin setting is found above the preview. It affects text blocks whose alignment are set to "Left" or "Right," and controls the distance from the text block to the edge of the layout.
Because each order is custom-printed to your specifications, cancellations, returns, and refunds are normally not possible. If your order has not yet been processed, we may be able to cancel it. If it has entered production (which often happens almost immediately), we are not able to make changes to or cancel it.
In the case of printer error (ie, wrong paper/ink, items mis-cut, quality issues), we will reprint and ship your order at our expense.
If your order contains errors that you approved when placing your order, we offer a 20% courtesy discount on a rerun within 30 days for printed items only.
In your shopping cart and during the checkout process you'll be given an estimated ship date. Please note that this is our estimate of when your order will leave our facility and doesn't include shipping time. This estimate is not guaranteed.
We ship nationwide in the US via UPS and USPS Priority Mail. We do not ship outside the US. After you enter your ZIP code, the various shipping options and costs will be shown in a pop-up menu. Please note that UPS Ground can take a week or more.
Use our Shipping Estimator to view shipping options and costs to your address.
Click "add a graphic" on the editor page for instructions on uploading your graphic or selecting a graphic from our clip art library. There is no charge for adding graphics.
We offer a variety of stock ink colors (see our samples page). In addition, we can custom-mix a Pantone ink to your specification. There is an $80 ink mix and press wash up charge per color.
We also offer:
Flat printing (adds 1-2 days), no charge
Printing on flap of envelope rather than front, additional $10 per 500
Bleeds, $7.50 per side per thousand
For the fastest response, please use our contact page.
Fax: (206) 774-6429